Avoiding Delays with Chinese Manufacturers
March 6, 2012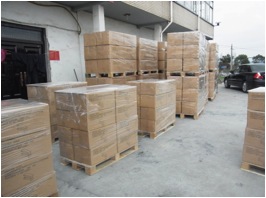 It's never easy dealing with delivery delays in your China sourcing project, feeling like you're stuck in a corner with a factory that insists there is nothing they can do. Dealing with a delay in production with shipping and delivery deadlines can be stressful, and the causes of these delays can seem too numerous to effectively protect yourself against. However, there are usually recurring causes for these delays which makes it possible to identify them ahead of time and take steps to help avoid the delays with your order.
Reasons for Delay:
1. The production line is too busy– This often happens with China manufacturers at the end of the year due to the Western holiday season.
2. A quality issue arises during inspection– The result is that a partial or full reproduction is needed.
3. Inadequate labor force– This is often due to laborers having to leave to their hometowns for seasonal harvests.
4. Factory has been outsourcing production– Some factories will outsource part or even all of the work for various reasons. A delay with the subcontractor can delay the entire production.
5. Customs inspections– If there are issues with customs, delays can be a week or longer.
6. Transshipment complications– Sometimes when transshipment is needed, it is not uncommon to encounter problems such as container rejection due to a lack of space in the vessel.
It is important to note that your production could be vulnerable to any of these problems throughout the sourcing process. Good planning, a strong knowledge of the product itself, and close cooperation between all the parties involved in the project are necessary to avoid issues with your sourcing project. Follow the tips below to further minimize your risk of delays.
Solutions and Preparation:
1. Have a complete understanding of your product– This includes the production procedures and requirements. Do you know how long it should take to finish each step in the production process? With this information you can put in the appropriate tracking procedures as described in Quality Inspection Tips Blog, and advanced procurement managers can even employ a Gannt Chart system as a more advanced solution. These types of processes will help you keep track of your production and to make sure that the factory is doing the same.
2. What are the capabilities of your factory? Is it a large factory or a small one? Is it always available? What is its production schedule? Clients' requirements should always be satisfied, but are your orders being prioritized according to your expectations? Make sure you are performing thorough and frequent factory audits of your suppliers.
3. Be familiar with the time the sea freight takes– If the goods are loaded at an inland port first, 7-10 additional days should be factored in before they arrive at the main port of departure.
4. Does your supplier outsource any part of the production? How responsive is this secondary supplier? Try and make sure you have control and are informed about all aspects of your supply chain. This is another area where factory audits are crucial for delay prevention.
5. Finalize the delivery date for regular orders– Have a specific delivery date for each order and make sure it is clearly expressed in writing to all parties what the consequences are in the event of a delayed delivery.
6. Consolidating orders? If you plan on consolidating shipments to save on costs, consider the extra time that will be needed for the logistics of doing this. If Full Container Load (FCL) shipping is required for your shipment, how long will it take to consolidate the various orders?
7. Plan for mistakes if possible– When making an official order, try to set your delivery date at least two weeks before the products are actually needed. However, keep in mind that this means you will also have to arrange storage. Evaluate if the cost of storage is worth the peace of mind of a two week safety-net.
Factories Prefer to Work Last Minute
Though it may seem unfair to the buyer, suppliers often plan to finish the packaging of goods 2 to 3 days before the scheduled loading time. This means there is no room for error if an issue arises, which they often do. In some cases, even with as much as a four-month lead-time, an unmonitored factory can end up behind schedule, since factories will rarely start on an order immediately upon receiving it. You can minimize your order delays by following the tips mentioned here and, most importantly, keeping close communication with your factory while tracking the status of your order during production.
– Coral Lee- Sourcing Associate
You may also like China Supply Chain: Common Risks & Solutions